During these days of uncertainty, many women seek strong, positive, wise and vital examples of aging. Fortunately, such role models exist. These women embody the character of the wise old woman archetype. Their lives provide inspiration and guidance for the darkest of days.
November 30, 2023

Diana Beresford-Kroeger (1944- ) Passion to Save the Earth
Diana Beresford-Kroeger is a medical biochemist, botanist, and environmentalist. Raised in Ireland, she was trained in the ancient Celtic knowledge of plants and nature as a child. Later she continued her education, achieving a master's degree in botany and two PhDs, one in biochemistry and the other in biology. Diana has spent her life confirming her early teachings using scientific research and experimentation.
Diana's legacy project is to clone and map the entire global forest. She continues this work today, as a scientist and as an activist by writing and speaking on the importance of trees. Diana contends that if each person would plant a single tree for 6 years, we would halt climate change - giving us time to find a more permanent solution.
Diana has written numerous books including "To Speak for the Trees," which is part memoir and part Celtic tree wisdom. The documentary "Call to Forest" focuses on her work with First Nations activists.
"What Can We Learn from Nature's Technology"
June 13, 2023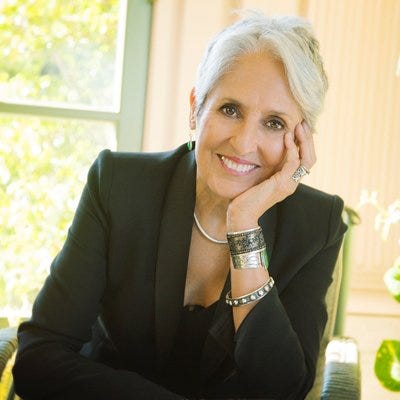 Joan Baez (1941- ) Songs that Defined a Movement
Joan Baez is a singer, songwriter, and activist for social justice (marching with Martin Luther King Jr., Cesar Chavez, and Nelson Mandela). Her presence and music filled the '60s. At age 82, she is no longer touring but still releasing music for our times. In the song "I Wish The Wars Were All Over," from her new album "Whistle Down The Wind," Joan asks, "Will a better world come? I don't know. But we have to do our work for a just and loving society whether the end comes tomorrow or whether we are still holding fast for generations to come."
You might be surprised to learn that Joan struggled throughout her life with panic attacks. She discovered a way to soothe them by drawing with her non-dominant hand UPSIDE DOWN! Now she has issued a new book of her drawings, "Am I Pretty When I Fly?: An Album of Upside Down Drawings." It shows that creativity has no end date, only the continuing desire to explore and grow. When asked why she draws this way, she answers, "We don't need an explanation for every damn thing. There's much to be said for letting go and doing something simply because it feels right." Amen to that, sister! Worthy of any wise crone too!


Lana Del Rey & Joan Baez, "Diamonds and Rust" & "Don't Think Twice, It's All Right" - Oct. 6, 2019.

August 13, 2022
"Peace Pilgrim" (1908-1981) Peace is in Every Step!
Beginning on January 1, 1953, Mildred Lisette Norman, adopted the name "Peace Pilgrim" and walked across the United States for 28 years, covering over 25,000 miles. Throughout her travels, she spoke with others about peace. She said, "When enough of us find inner peace, our institutions will become peaceful and there will be no more occasion for war." She was on her seventh cross-country journey when she died in an automobile accident. The Peace Pilgrim continues to inspire as an example of what one person can do to change the mind and hearts of others. "This is the Way of Peace: overcome evil with good, falsehood with truth, and hatred with love."
Peace Pilgrim an American Sage Who Walked Her Talk
June 19, 2022
Opal Lee (1926- ) Walking her way to Freedom!
Opal Lee, is known as the "Grandmother of Juneteenth," but she describes herself as "just a little old lady in tennis shoes getting in everybody's business." Lee is a former teacher and social worker. Her social activism changed history, when at 89 years old, she began a walking campaign from her Fort Worth home to Washington D.C. to draw attention Juneteenth.
Juneteenth commemorates June 19, 1865, the date when enslaved people in Galveston, Texas, finally received the news they were free. This was two years after President Abraham Lincoln's Emancipation Proclamation, one year after the Senate passed the 13th Amendment, abolishing slavery and six months after it was passed by the House.
Although it took six years, Lee's efforts prevailed. On June 17, 2021, President Joe Biden signed the Juneteenth National Independence Day Act into law. Now, at 95 years old, she still advocates for social justice and equality within Black communities.
"Juneteenth means freedom for so many people, for so many reasons. I try to get people to understand it's not a Texas thing, is not a black thing—it's freedom for everybody. I'm hoping, eventually, we will celebrate from the 19th of June to the Fourth of July; that would be celebrating freedom." Opal Lee
February 8, 2022
Gloria Steinem (1934 - ) This is what 80 looks like!
Gloria Steinem is a writer, lecturer, political activist, and feminist organizer. At 80 years young, she still travels throughout the world as an organizer and lecturer and is a media spokeswoman on issues of equality. She is particularly interested in the shared origins of sex and race caste systems, gender roles and child abuse as roots of violence, non-violent conflict resolution, the cultures of indigenous peoples, and organizing across boundaries for peace and justice. Steinem was a columnist for New York magazine, and a co-founder of Ms. magazine.
In 2006, Steinem wrote Doing Sixty & Seventy which focuses on the issue of age in gender oppression. She argues that despite the ageism they confront, women become more radical as they age. "Fifty was a shock," Steinem writes, "because it was the end of the center period of life. But once I got over that, 60 was great. Seventy was great. And I loved, I seriously loved aging. I found myself thinking things like: 'I don't want anything I don't have.' How great is that?" But, she added, "80 is about mortality, not aging. Or not just aging."
January 1, 2022
Ursula K. Le Guin (1929-2018) Fantasy is Reality

Ursula Le Guin was a celebrated author whose body of work includes 23 novels, 12 volumes of short stories, 11 volumes of poetry, 13 children's books, five essay collections, and four works of translation. Her writings of speculative fiction cover themes of social and political issues. At the age of 81, Le Guin started a blog which later became essays in her book No Time to Spare. Throughout her work she continued to address issues of age, race and gender. For example, "I'd like a poster showing two old people with stooped backs and arthritic hands and time-worn faces sitting talking, deep, deep in conversation. And the slogan would be: Old Age Is Not for the Young."
"Men call women faithless, changeable, and though they say it in jealousy of their own ever-threatened sexual honor, there is some truth in it. We can change our life, our being; no matter what our will is, we are changed. As the moon changes yet is one, so we are virgin, wife, mother, grandmother. For all their restlessness, men are who they are; once they put on the man's toga they will not change again; so they make a virtue of that rigidity and resist whatever might soften it and set them free."
Ursula K. Le Guin - American Masters

October 16, 2021
Jane Goodall (1934- ) From Scientist to Activist
"You cannot get through a single day without having an impact on the world around you. What you do makes a difference, and you have to decide what kind of difference you want to make." ― Jane Goodall
Jane Goodall is a naturalist, anthropologist, and activist. She is best known for her time living alone in Tanzania studying chimpanzees. This was 1960 when Jane's patient observation led to significant discoveries that linked chimps to humans. However, in the 1980's Jane stopped researching and begin working as an activist, spending 300 days a year speaking, lecturing and fund-raising for environmental and conservation causes. This is work she believes to be her calling.
In 1977, the Jane Goodall Institute was founded. It funds research on primates, wildlife conservation, poverty, education, and climate change. Jane is the recipient of many awards. In 2002, she was named a UN Messenger of Peace. At 87, Jane has no indication of slowing down, although she plans to focus more on virtual activities. She says, "I'll go on fighting till the day I die. Because I'm passionate, and because I believe we have a window of time. … [I]t's only if we all do our bit and get together that we can start slowing down climate change [and] heal some of the harm that we've inflicted."
Jane's life and her continuing hope that we can still reverse the impact of climate change, gives her listeners the belief that their actions can make a difference.
Jane Goodall - The Hope Trailer


September 14, 2021

Iris Apfel (1921 - ) Doing the Unexpected.

Iris is an interior designer and fashion icon. In 2005, the Metropolitan Museum of Art had a showing of her fashion style (oversized jewelry and eye glass frames with bright, eccentric clothing combinations). She became an overnight sensation at 84 years old and a cover girl in her 90s! Her individualistic, unique and playful fashion style encourages older women to step out of the shadows. The Museum said of her style, "Her originality is typically revealed in her mixing of high and low fashions - Dior haute couture with flea market finds, 19th century ecclesiastical vestments with Dolce & Gabbana lizard trousers." Her style and free spirit has captured the imagination of many. Signs of her late life success are many. A Barbie doll was made after her image and she was the subject of a 2014 documentary about her life. The book shown above is filled with her joyous style. Iris once said, "I never expected people to know my name or recognize my face, I never expected to be called a fashion icon. I never expected museums to exhibit my clothing and accessories. I never expected to be a cover girl or the face of a cosmetics company in my nineties... I never expected anything. I just feel things in my gut and I go them. If something sounds exciting and interesting I do it - and then I worry about it later. Doing new things takes a lot of energy and strength. Its very tiring to make things happen, to learn how to master a skill, to push fears aside. Most people would rather just go with the flow: it's much easier. But it's not very interesting."